Sunoco Heat Race Challenge Standings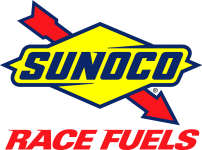 Sunoco Race Fuels and Florence Speedway are teaming up for a contingency program to reward drivers who race here weekly. The Sunoco Race Fuels Heat Race Challenge will reward drivers who run well in their heat races and run Sunoco Race Fuel products. The twist to this program is that where, in most cases, drivers in different divisions can't compete against each other, in the Sunoco Race Fuels Heat Race Challenge, the elligible drivers will be competing against each other! Thats right, the Late Models, Modifieds, Crates and Sport Mods are all competing for the same prize. At the end of the season, the top point earner will gain a $500 prize from Sunoco, and everyone in the top 10 will receive cash awards.
Drivers wishing to participate, may register at the track, or by emailing jking@florencespeedway.com
2022 Final Standings – Points equalized across divisions – Best 6 finishes.
| Pos. | Car No. | Driver | Division | Points |
| --- | --- | --- | --- | --- |
| 1st | 55 | Matt Watson | Sport Mod | 60 |
| 2nd | 7B | Brad Rickels | Crate Late Model | 58 |
| 3rd | 11H | Pete Holt | Modified | 54 |
| 4th | 1HJR | John Holt Jr. | Modified | 36 |
| 5th | 13 | Caleb Burgess | Modified | 36 |
| 6th | 18 | Trevor Landrum | Late Model | 35 |
| 7th | 33aj | Austin Lay | Late Model | 25 |
| 8th | 1M | Ryan Morton | Modified | 10 |
| 9th | 36 | Steve Brown | Sport Mod | 7 |
How the program works:
All Late Model, Modified, Crate, and Sport Mod drivers are eligible for the program. All divisions will be competing against each other. Note, as the Hornets are required to run standard pump gas, they are inelligible for this program.
Participation in this program is optional and does not have any bearing on regular championship points.
The program will begin on the first points race of the season and will continue to the Season Championship race.
Drivers are awarded points based on heat race finishes. Drivers will receive 10 points for winning a heat race, 9 points for a second place finish, 8 points for a third place finish, 7 points for a fourth place finish, and 6 point for a fifth place finish, and so on decreasing by 1 point per finishing position. Each participant will receive a minimum of one point per week that they make a qualified purchase. For the purpose of this program, points will be awarded for actual finish order and will not be affected by passing points.
Drivers wishing to participate, need to register for the program at the fuel tanks and must declare their purchase each week to verify proper credit.
Drivers may participate in multiple divisions for the purposes of the program, but the points for each division will be kept separately. The driver will need to make the minimum fuel purchase for each division if competing in both divisions in a single night.
To be eligible, a driver must have a Sunoco Race Fuels decal clearly visible on both sides of their car.
To be eligible, drivers must purchase a minimum of 5 gallons of Sunoco Race Fuel(gas or alcohol) at the track for each race night they compete.
Drivers who do not purchase the required 5 gallons of Sunoco Race Fuel on a given week, will not receive any points for that week. Drivers have a one race grace period to make up the purchase and regain points lost this way.
To promote equity between divisions, only a driver's best 10 heat finishes of the season will count towards the program. If any division does not have 10 eligible heat races, we will only look at that amount of heats for all divisions.
In the event of a tie, we will compare tied driver's 11th best heat finish. If still tied, we will continue adding one heat to their total till the tie is broken. These additional heats will only count towards breaking the tie. In the event that there is a tie after looking at all eligible heat races, the tied awards will be split evenly.
At the track awards banquet, a point fund will be awarded to the top 10 in points for the program. The points fund is as follows: 1) $500, 2) $250, 3) $175, 4) $125, 5) $100, 6) $90, 7) $80, 8) $70, 9) $60, 10) $50